The Historical Diving Society presents:
The First HDS Explorer Mission
AN HISTORIC DIVE TRIP
May 8-12, 2023 • Key Largo, FL
Experience exclusive activities and meet icons of diving history!
---
The First HDS Explorer Mission


May 8-12, 2023 • Key Largo, FL

$2725

Reserve Your Seat
Activities
Explore the former undersea research lab Jules Undersea Lodge – inside and out
Guided tour and snorkel in Key Largo's mangrove ecosystem
Work on coral reef restoration projects with expert guidance
Guided diving on the wrecks and reefs of Key Largo
Go behind the scenes at the History of Diving Museum
Try diving with historic hard hat equipment and futuristic gear
Exclusive access to other unique activities and facilities
Featured Speakers
Ocean Pioneer Ian Koblick: PRINUL, MRDF and the Jules Undersea Lodge
Underwater Photographer Stephen Frink: Diving Key Largo's Wrecks and Reefs
Program Manager Roxane Boonstra: Coral Restoration Foundation
Museum Director Lisa Mongelia: History of Diving Museum
This inaugural HDS Explorer Mission also features presentations by trip coordinators HDS President and oceanographer, Jon Council, and HDS Board Member and veteran expedition leader, Mark Ward.
Package price includes
4 nights at the Key Largo Reef House (formerly Marriott Key Largo Beach Resort)
All meals and local transfers (participants responsible for travel to & from Key Largo)
7 dives over 3 days
Exclusive activities and presentations
Participants must be 18 or over and certified advanced open water and nitrox divers
Dive gear available for rent at additional cost
All-inclusive rates from $2,725.00 (Double occupancy diver)
Sign up now or call (805) 934-1660
Be part of diving history!
The First HDS Explorer Mission


May 8-12, 2023 • Key Largo, FL

$2725

Reserve Your Seat
The First HDS Explorer Mission


May 8-12, 2023 • Key Largo, FL

$2725

Reserve Your Seat
Meet the Speakers
Ian Koblick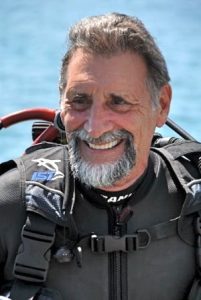 Ian Koblick's dynamic and influential oceanographic career has spanned over the last half century and ranks amongst the top legends within the ocean intervention industries. From treasure diver, to one of America's first Aquanauts, a pioneer in saturation diving, a member of Tektite I & II, He designed the La Chalupa undersea habitat which he was able to establish a multi-year deployment during the Puerto Rico International Undersea Laboratory (PRINUL 1971-76) Ian co-authored the definitive work on undersea habitat operations "Living and Working in the Sea". Considered an authority on undersea exploration and experimentation, his works have also included a focused effort towards the creation of multiple educational programs and facilities specifically designed to benefit young people, their lives and the future of humanity.
In 1995, at his Marine Resources Development Foundation (MRDF) located in Key Largo, Florida Ian was joined with diving industry leaders to produce the "Scott Carpenter Man in the sea program" where participants were provided the experience of a lifetime as they were exposed to undersea living conditions, locked out of diving bells, lived for days in undersea habitats, piloted submersibles, conducted technical and biologic experiments, worked on underwater archaeology projects and used a myriad of technical diving equipment to learn what living and working in the sea is actually like.
In 1995 he co-produced a 30 year anniversary re-enactment of the famous Sea to Space communications link between Astronaut/Aquanaut Scott Carpenter from the US Navy SEALAB II with an orbiting Gemini space capsule in 1965, during the reenactment Carpenter satellite linked from the former La Chalupa undersea habitat with astronaut Michael Gernhardt orbiting in the space shuttle Endeavor.
In 2005 Ian formed the "Aurora Trust Foundation" an organization focused on nautical archaeology and the discovery of sunken ships primarily located in the Mediterranean and Caribbean Seas.
Ian has served as a consultant on oceanographic projects all over the planet.
Internationally recognized as a leader in the industry, his knowledge and expertise have been relied upon in Malta, Italy, Sicily, Brazil, Vietnam, Croatia, Cuba, Spain, the Virgin Islands and of course the United States.
Ian Koblick continues his sixty-plus year quest towards the furtherance of educating the masses, particularly youth, to the vital importance of the world's oceans and the direct link between them and a viable and healthy planet and its ability to sustain life.
Pioneer, entrepreneur, educator, author, adventurer, husband, father, mentor, renaissance man.. Ian Koblick is all of those things and more. His life-long contributions within the diving world have rightfully earned him legendary status within it.
Stephen Frink
Stephen Frink is among the world's most frequently published UW photographers, with a career spanning four decades. He arrived in Key Largo, Florida Keys in 1978 to open a small studio, primarily renting underwater cameras and processing E-6 slide film; but he soon began to receive assignments to photograph and write articles for the consumer dive publications of the day. He worked as a photojournalist for Skin Diver magazine for 17-years, covering much of the Caribbean, Bahamas, and Florida Keys for the publication. Subsequently he worked as the Director of Photography for Scuba Diving magazine. Most recently, and for the past 10 years, Stephen has been the publisher of Alert Diver Magazine, a beautiful coffee-table collectible magazine for the members of Divers Alert Network.
Stephen teaches a Master class in underwater photography each summer in his home waters of Key Largo, Florida, and offers a few personally escorted underwater photo tours each year. Clients for assignment photography over the past 4 decades have included Scubapro, Victoria's Secret, Aqualung, Oceanic, Canon, Nikon, Mercury Marine, Jantzen, R.J. Reynolds, Henderson Aquatics, American Express, Hanes, and Club Med. Rolex Watch Company has also engaged Frink for both endorsement and product photography.
Other Frink enterprises include a dive travel company, WaterHouse Tours, and a stock photo agency, Stephen Frink Collection. When not on location in some tropical dive destination he divides his time between homes in Key Largo, Florida Keys and Rougemont, NC.
Roxanne Boonstra
Roxane Boonstra completed her Masters degree from the University of Miami's marine program, and then spent six years in the Cayman Islands where she worked as a Jill-of-all-trades in the SCUBA diving industry, amassing thousands of dives as an underwater videographer, SCUBA instructor and divemaster.
She is the Recreational Dive & Volunteer Coordinator at the Coral Restoration Foundation™ and is responsible for the coordination, implementation and development of both the Dive Programs, which are public opportunities for coral restoration, and for the Volunteer Programs, which are eco-volunteer opportunities for those interested in long-term volunteering.
She has provided coral reef educational presentations for multiple organizations including the TED talk series.
Lisa Mongelia
Lisa Mongelia is the Executive Director at the History of Diving Museum located in the beautiful Florida Keys. She joined HDM in 2014 with a background as a dive professional and community volunteer along with over 30 years in office management. Lisa works with a creative team that continuously seeks to broaden visitor engagement through unique programming and hosting two annual featured exhibits. Lisa also volunteers on the Sanctuary Advisory Council and spends her free time with family and friends enjoying a variety of outdoor and cultural adventures.
The First HDS Explorer Mission


May 8-12, 2023 • Key Largo, FL

$2725

Reserve Your Seat