MITS is just rounding its first full year of giving divers hands-on experience at exploring the ocean in diving bells, submarines and underwater habitats that were once the exclusive domain of scientists and commercial divers.
The program, launched by ocean pioneer Ilan G. Koblick and astronaut/aquanaut Scott Carpenter, allows divers to pilot a sub, perform experiments inside an undersea laboratory, use surface-supplied diving gear, work with a diving bell and use underwater construction tools. At the end of the day, divers sleep beneath the surface of the ocean aboard the world's only undersea hotel, Jules' Undersea Lodge. Part of the success of the MITS program is its location at the Marine Resources Development Foundation's
facility, built on a protected ocean fed private lagoon with a depth of 30 feet / 9 meters. This provides beginners with the perfect place to learn and practice with offshore equipment.
Participants can gain long-term exposure experience in three saturation diving systems that allow divers to live under pressure and only decompress once, at the end of their dives. Pressure inside the systems is never more than 22 feet / 7 meters of seawater, so divers can surface without making an in-water decompression stop, even after several days or months underwater. Two of the three saturation systems are underwater habitats: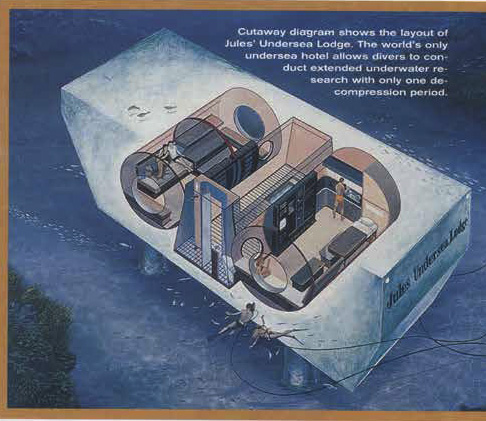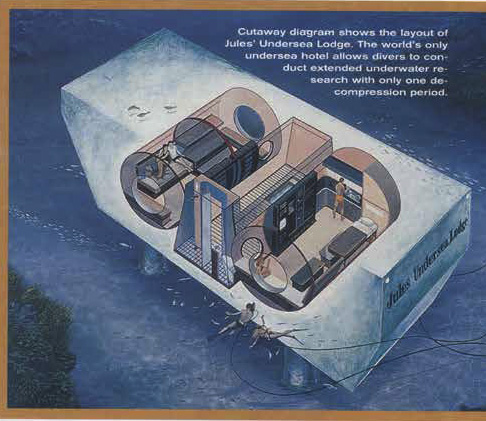 La Chalupa, better known as Jules' Undersea Lodge, and Medusa, now known as Marine Lab. The third is a diving bell launched from a topside barge. La Chalupa was built in 1972 by Perry Submarine Builders as part of a program sponsored by the foundation and the government of Puerto Rico. It served as a research facility 10 miles off the coast of Puerto Rico from 1972 to 1976. In 1985, it was refitted to become the Jules' Undersea Lodge and has been in operation then as an underwater facility for recreation and science, it sleeps six in comfort, while providing ample work and recreation space.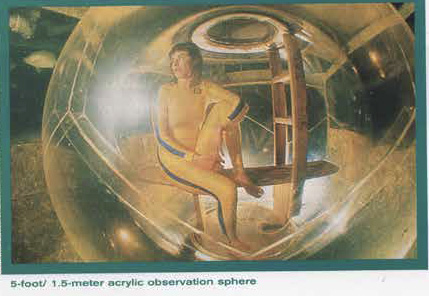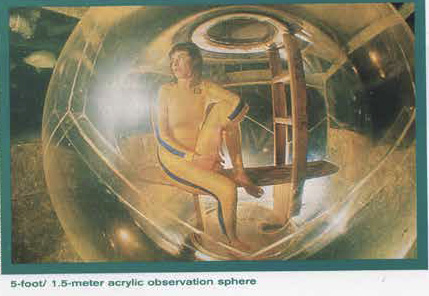 The Medusa was built by U.S. Naval Academy midshipmen in 1973 as an engineering project. It was placed in 25 feet / & meters at John Pennekamp State Park, Fla., in 1984, before being moved the following year to its present site. More spartan than La Chalupa, the habitat is similar to those found in most scientific laboratories. A special feature is a 5-foot/ 1.5-meter acrylic observation sphere below the main habitat structure. The sphere can be entered through a hatch in the deck without re-entering the water.
Participants can gain long-term exposure experience in three saturation diving systems that allow divers to live under pressure and only decompress once, at the end of their dives.
The diving bell was called the Perry 1 Hurricane System when it was built in 1975 by Perry Submarine. The system, which includes a triple-lock recompression chamber on the barge deck, was designed to ferry divers to work at depths to 650 feet / 199 meters. Although the relatively shallow lagoon floor prohibits going to such depths now, the bell does provide the experience of being lowered to a seafloor work site. Once down, divers exit the bell to practice operating tools used in underwater construction by today's high-tech commercial divers.
The MITS sub, the Sea Urehin, is a 10-foot / 3-meter one man submersible built by International Hardsuits Inc. It is capable of diving up to 300 feet / 91 meters. Participants learn submersible operation-and theory under the guidance of Sea Urchin Systems instructors, before diving solo in the confines of
the protected lagoon. In other programs, divers are trained in using Divelink gear, AGA and lightweight. EXO commercial masks with communications and surface and bell supplied diving gear, and ancillary equipment such as hookah setups, underwater video and diver-propulsion vehicles.
Up to 18 divers, working in teams of six; can participate in MITS programs at one time. All facilities are
linked by video for monitoring and enhanced communication. Activities of the divers' final mission day are captured on tape to be broadcast live via satellite and are a powerful interactive educational tool for museums, aquariums and classrooms.
The MITS Team
Program developers lan G. Koblick and Scott Carpenter are veterans of the Man in the Sea programs of the 1960s and 70s who organized an all-star team of underwater explorers.
Koblick was a program manager and aquanaut on La Chalupa and Tektite II and l, the saturation diving experiments conducted by the National Aeronautics and Space. Administration in underwater habitats off the Virgin Islands in the early 1970s. A widely regarded authority on undersea living, he co-authored the book Living and Working in the Sea. Scott Carpenter will always be remembered as a Mercury 7astronaut and the second American to orbit the earth. Carpenter joined the U.S. Navy's Man in the Sea program in 1963, where he served as an aquanaut team commander during U.S. Navy's Sea lab II and III experiments.
Under Koblick's direction, the Marine Resources Development Foundation has championed undersea research and environmental education since 1970, Introducing thousands of people to the marine world.
The MITS board of advisers is a who's Who in Undersea Exploration. Among the members are Navy aquanaut, Bob Barth of the Sea Lab I, II, and III projects; Dr. Andy Rechnitzes, a former science adviser to the Oceanographer of the Navy and manager of the Trieste project: Dick Bonin a former chief executive officer of Scubapro ; Dr. Eugenie Clark, shark researcher and professor at the University of Maryland; Dr. Sylvia Earle, aquanaut In Tektite ll and Hydrolab, marine botanist, president of Deep Ocean Engineering and former chief scientist of National Oceanic and Atmospheric Administration: Dr. Jim Miller former director of NOAA' manned undersea Programs; Andre Golerne, a commercial driving pioneer and owner of International Underwater Construction Inc. John Hurt, the driving pioneer who became chief executive officer of Oceaneering International, Emory Kristof National Geographic photographer and explorer of the Titanic: Bev Morgan developer of the Band mask EXO-26 and Super Lite helmets Dr. Michael Gernardt, NASA astronaut and founder of Ocean Space Systems; Phil Nuytten, underwater explorer, co-founder Oceaneering International and developer of the Newtsuit; and famed underwater film makers Stan Waterman and John Stoneman.