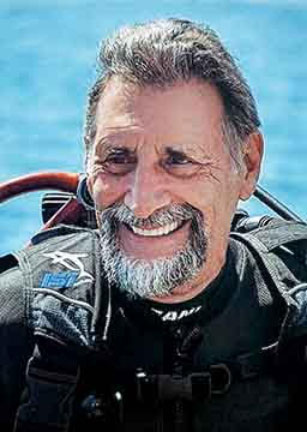 Group

Board of Directors

Position

Director
Ian Koblick's dynamic and influential oceanographic career has spanned over the last half century and ranks amongst the top legends within the ocean intervention industries. From treasure diver, to one of America's first Aquanauts, a pioneer in saturation diving, a member of Tektite I & II, He designed the La Chalupa undersea habitat which he was able to establish a multi-year deployment during the Puerto Rico International Undersea Laboratory (PRINUL 1971-76) Ian co-authored the definitive work on undersea habitat operations "Living and Working in the Sea". Considered an authority on undersea exploration and experimentation, his works have also included a focused effort towards the creation of multiple educational programs and facilities specifically designed to benefit young people, their lives and the future of humanity.
In 1995, at his Marine Resources Development Foundation (MRDF) located in Key Largo, Florida Ian was joined with diving industry leaders to produce the "Scott Carpenter Man in the sea program" where participants were provided the experience of a lifetime as they were exposed to undersea living conditions, locked out of diving bells, lived for days in undersea habitats, piloted submersibles, conducted technical and biologic experiments, worked on underwater archaeology projects and used a myriad of technical diving equipment to learn what living and working in the sea is actually like.
In 1995 he co-produced a 30 year anniversary re-enactment of the famous Sea to Space communications link between Astronaut/Aquanaut Scott Carpenter from the US Navy SEALAB II with an orbiting Gemini space capsule in 1965, during the reenactment Carpenter satellite linked from the former La Chalupa undersea habitat with astronaut Michael Gernhardt orbiting in the space shuttle Endeavor.
In 2005 Ian formed the "Aurora Trust Foundation" an organization focused on nautical archaeology and the discovery of sunken ships primarily located in the Mediterranean and Caribbean Seas.
Ian has served as a consultant on oceanographic projects all over the planet.
Internationally recognized as a leader in the industry, his knowledge and expertise have been relied upon in Malta, Italy, Sicily, Brazil, Vietnam, Croatia, Cuba, Spain, the Virgin Islands and of course the United States.
Ian Koblick continues his sixty-plus year quest towards the furtherance of educating the masses, particularly youth, to the vital importance of the world's oceans and the direct link between them and a viable and healthy planet and its ability to sustain life.
Pioneer, entrepreneur, educator, author, adventurer, husband, father, mentor, renaissance man.. Ian Koblick is all of those things and more. His life-long contributions within the diving world have rightfully earned him legendary status within it.