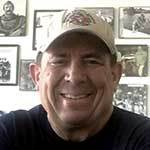 Group

Board of Directors

Position

President
Jon Council's diving experience spans forty-six years with the past thirty-two of it as a scientific research diver, submersible pilot/instructor and Aquanaut. His career has taken him around the globe from the arctic to the tropics with projects ranging from collecting subsea biological data beneath arctic ice for the EPA and NOAA, to searching out ancient shipwrecks in the Aegean Sea. He has worked with NASA to help train astronauts underwater in preparation for future space missions to sitting down with school children to teach them about the mysteries and majesty of marine organisms.
Jon has been blessed by working with, and being influenced by the very best within the oceanographic, deep submergence and diving industries. Because of it, he was inspired to become an avid diving historian and now operates the "Avalon Diving History Exhibit" museum in southern California's Catalina Island where he resides.
In 2018 his works involved with historical preservation were recognized and honored by the Historical Diving Society when he was presented with the Nick Icorn Diving Heritage Award.
Now as a HDS board director he will be able to utilize his years of experience to promote and further the mission of the society.